A friendly team of local property experts.
The highly experienced team at Cobb Farr offers a warm welcome and a wealth of knowledge and experience.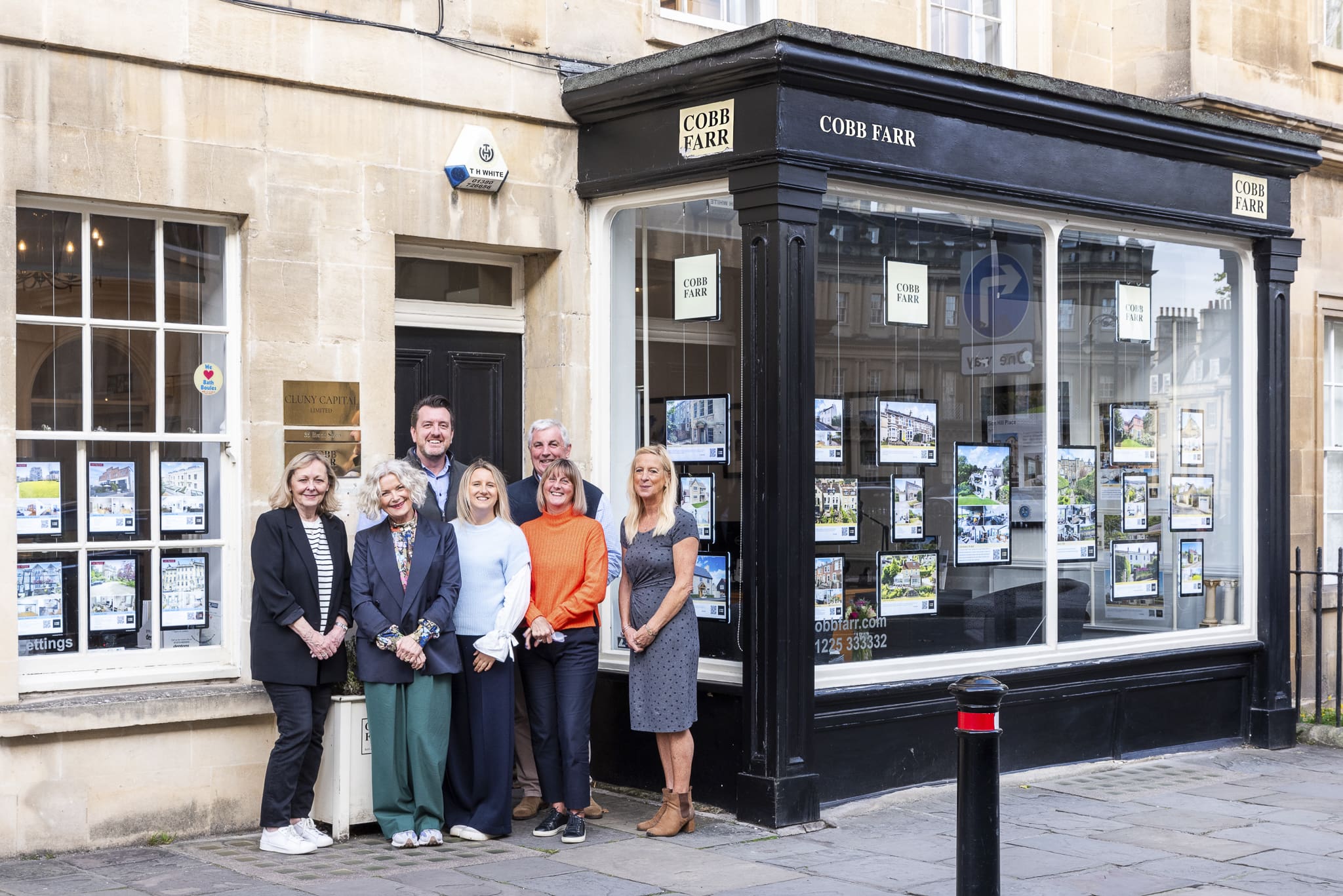 Cobb Farr are leading and well-established Bath Estate Agents, with their office between Bath's two most iconic landmarks, the Circus and the Royal Crescent.
There is very little about the property market in Bath and the surrounding villages in which Cobb Farr Bath Estate Agents do not have an involvement. Our huge knowledge of selling and letting houses in the city and surrounding villages is why we are one of the leading Bath Estate Agents for private individuals, property developers and landlords in this locality.
Skills and support for buying and selling
Cobb Farr can offer you expert advice based on an intimate knowledge of the local marketplace, whether you are selling or buying in Bath or the surrounding towns, villages and countryside of Wiltshire and Somerset.
The team at our Bath Estate Agents is headed by Philip Cobb, who was co-Founder in 1989 and is now Managing Director with many years' experience. He has an intimate knowledge of the town and area, as well as an enviable reputation as a Negotiator.
Philip is supported by a skilled team of specialist consultants and administrators who all have a close knowledge of the area, and are skilled and experienced at selling homes, as well as Consultants in Letting and Land Development.
Cobb Farr at the heart of Bath
Our office in Brock Street is right in the very heart of the Georgian city, and occupies a beautiful period building which is typical of the values of Cobb Farr, who are well known for selling beautiful houses as well as many of the more interesting period properties.
You're guaranteed a warm welcome at our office, where you'll be able to discuss buying or selling your home with an expert, who can offer you all the advice and information you need to get the best value and make the right choices.
As a seller, we can take your instructions for your house sale, or as a buyer, show you round the large range of properties on offer – please just ask.
Here to help
We're always happy to undertake a valuation for you, without commitment, which is based on our local and national market knowledge, skills and experience, as well as our commercial instinct and understanding of what sells well to which kind of buyer, and at what time – we maintain a large and up-to-date database of potential properties and buyers who may be local, regional, from London or overseas.

Specialist services for Bath letting and renting
Cobb Farr are one of the leading Bath letting agents in Bath.
View our residential letting properties here.
Our skill is in our intimate knowledge of the market in the city and surrounding villages and countryside. Our experience spans many years and a huge range of property types, locations and specific needs.
We are well known for running a premium service for landlords and tenants alike, assuring an easy management role for landlords and a helpful service for tenants.
The lettings team at Bath is headed by Jenny Draper, who has many years' experience and knows the area intimately. She is supported by experienced and efficient negotiators and administrators who are fully conversant with the law and the requirements of both landlords and tenants.
Pride in our job as Bath Estate Agents
We pride ourselves on matching landlord to tenant, and maintaining good relationships with both. Our landlords understand that they are getting a brilliant, professional management service; our tenants recognise that they are properly looked after and supported. And they both know they are getting great value.
35 Brock Street
The Circus
Bath
BA1 2LN